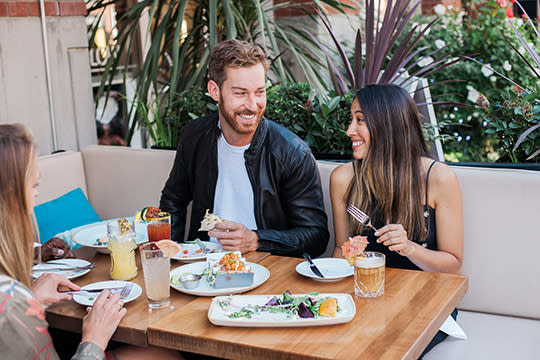 About Dine OutSide
The onset of the coronavirus pandemic in early March has impacted us in ways beyond our imagination. We hoarded toilet paper. We physical distanced and we stayed indoors to flatten the curve. Our borders closed. Many businesses pivoted their offerings. Murals covered boarded up shopfronts. We 'zoomed' with friends and some of us worked from home for the first time. We clapped and cheered at 7pm in support of frontline workers. We mourned those we lost.
We baked bread and ran out of yeast. We ordered delivery from restaurants to support local, and we added beer and wine to our orders. We hunkered down and we persevered. When it was safe, we slowly expanded our social circles. The City of Vancouver expanded patios, "slowed streets" and expedited approvals. Just in time, summer arrived.
And now, as we emerge from our homes to our different normal; we venture safely and carefully back into restaurants and stores, to parks and beaches, and into neighbourhoods outside of our own communities. We invite visitors from across British Columbia and the country to enjoy Vancouver with us. And, we invite you, food and drink lovers to savour this 21st century renaissance, our fabulous West Coast summer weather, and our city's exceptional food and drink to not just Dine Out™ again, but to Dine OutSide! Vancouver style.
LOCATION
Tourism Vancouver
Suite 210-200 Burrard Street
Vancouver BC V6C3L6
CONTACT
Phone: 604.682.2222