CHEF ALESSANDRO VIANELLO - ARC RESTAURANT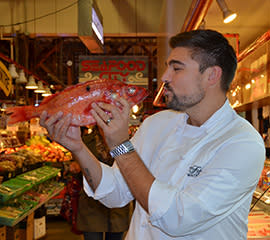 Vancouver trained, and Internationally travelled, Chef Alessandro Vianello received his culinary diploma from Vancouver Community College and his Red Seal certificate from Northwest Culinary Academy in Vancouver. Vianello started his culinary career with Fairmont Hotel & Resorts at the iconic Fairmont Hotel Vancouver, then sharpened his knives globally as Head Chef of AA Rosette Restaurant at the Fairmont St. Andrews, Scotland. After globetrotting, in 2009 Chef Vianello returned to his home town as Head Chef on the opening team of Prestons Restaurant at both the downtown Vancouver and Chilliwack locations. Mostly recently, Vianello was the owner of one of Vancouver's most highly rates food trucks, Street Meet, which offers Vancouverites a taste of European cuisine. Joining the team at The Fairmont Waterfront, Alessandro is very passionate about serving local food with a focus on culinary sustainability. He fosters close relationships and ties to our local farmers and enjoys teaching young culinarians how to grow their skills in the kitchen.
1. What three words best describe your cuisine?
Simple, Unique, Tasty
2. What is your guilty food pleasure?
Chicken wings or any type of fried chicken... and pickles
3. If you could cook a meal for anyone who would it be and what would you cook?
Freddie Mercury, and I would cook grilled cheese sandwiches, because he is awesome and who doesn't like grilled cheese.
4. What should we know about you that can't be found on your resume? 
My father's side of the family is from Venice and they all still live there. A lot of my food styles and passion has come from that side of the family as well as my mother who learned to cook from both her mother and my father's mother.
5. What is your favourite food word?
Harvest
6. What ingredient could you not live without?
Is gravy an ingredient? Probably salt, olive oil, or Sriracha
7. What foods are you craving the most right now?
Backyard BBQ hamburgers
8. Kitchen quirks - do you have any?
Singing terrible songs over and over again until they are stuck in everyone's head.
9. What is your favorite item in your restaurant?
Pastrami Spiced beef tartar with pickles, mustard and pretzel
10. What do you think is the next big food trend?
I think there will be a large focus on preserving in different methods, such as fermenting.
11. What is your favorite part of Dine Out Vancouver Festival?
Getting to cook things that are not on our regular menu.
12. What inspires your cooking?
My heritage, the local farmers, the seasons, and whatever I feel like eating at that moment in time.
13. What is an absolute must try on your menu for the upcoming festival?
Confit lamb belly with fermented heirloom carrot, yogurt cheese and mint
14. What do you enjoy most about your craft?
Meeting new people every day and getting to use ingredients that most people only dream of using.
15. What is your favourite "tourist in your own town" activity?
Skating at Robson Ice rink with my wife.