AWARD-WINNING UK VEGETARIAN RESTAURANT TO "POP UP" IN YVR DURING DINE OUT VANCOUVER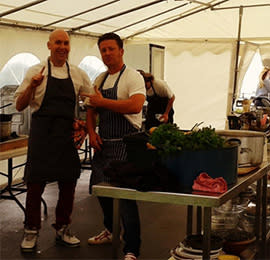 A team from the UK's famous vegetarian restaurant Terre à Terre in Brighton are sharpening their knives for a one-night-only dinner during Dine Out Vancouver Festival. The January 18 International Chef Exchange dinner will take place at The Parker, Vancouver's vegetarian hot-spot in Chinatown.
International flavors and techniques will collide when Chef Matty Bowling (originally from New Zealand but based in the UK) works alongside Vancouver's Chef Felix Zhou (born in China, raised in Vancouver, worked for many years in London) – who just recently took the helm as The Parker's Executive Chef.
The meal will be accompanied by acclaimed English sparkling wines from Ridgeview Wine Estate, artisan silver birch gin from Blackdown Sussex Spirits, BC wines from Summerhill Pyramid Winery.
"We are overjoyed to be working with The Parker Restaurant, Vancouver" said Philip Taylor, Co-Owner of Terre à Terre. This is a great opportunity to share Terre à Terre's culinary style and flavours with the world and we hope that Matty gains from the experience too, working with another Head Chef in an unfamiliar restaurant with new ingredients is a really exciting challenge"
In addition to the restaurant event, Chef Matty and the festival team will be hosting a pop-up lunch at Street Food City on Monday 19 January.
International Chef Exchange is an initiative created by the Brighton & Hove Food and Drink Festival that sees leading chefs from the UK partner with colleagues abroad. The objectives are to share best practice, showcase quality food and drink produce to potential export markets, and to promote the gastronomic tourism offering of reciprocal regions. The exchanges are also being filmed for UK television by Latest Media.
In return The Parker chef, Felix Zhou will be taking over Terre à Terre's Kitchen in Brighton in May 2015 to participate in the Brighton & Hove Food and Drink Festival's Spring Harvest event.
Photo caption: Chef Matty Bowling joking around with Jamie Oliver at a culinary event in August 2014.