EXECUTIVE CHEF RICHARD DESNOYERS, EDIBLE CANADA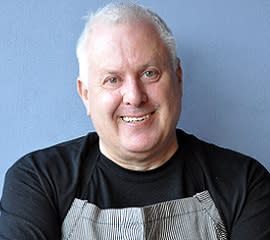 Chef Desnoyers traces his roots back to the province of his youth, with French and Quebecois influences at the heart of his cuisine. He has a wide range of experience, and both a character and talent to match it. Passionate and proud of each detail in his dishes, he is at the same time approachable and welcoming to guests and his staff alike.
Chef Desnoyers commands leadership in any kitchen, from his many years of diverse experience. He has managed his own restaurant in Quebec City, named Café Colette, for the better part of a decade. He spent years learning to cook West Coast cuisine in both California and Vancouver, and the list of establishments where he has hung his apron is like a bucket list of restaurants to try. He graduated at the top of his class at Trait-Carre school, catered for international celebrities such as S.A Albert of Monaco, Colin Powel, and Barbara Streisand, and has hosted radio and television shows for the CBC. You may also recognize his face from his 'Big Breakfast' segment on CityTV Edmonton offering cooking tips and recipes to the viewers. His most recent foray into the media universe was as the host of the popular weekly radio broadcast on the CBC entitled 'The Wicked Chef'.
Richard's cookbook, 'Cooking with the Wicked Chef', will be coming out next year. Until then, to sample his cooking you will have to wander down to Granville Island and find a seat in Edible Canada's Bistro.
Best culinary compliment you have ever received?
"When the food silences the table." No words mean as much as the blissful silence of someone completely enjoying his or her food. Clean plates are another well-received complement - nothing says 'I loved this' better than eating every last crumb.
Kitchen quirks - do you have any?
Oh, yes. I like to talk to the food I prepare. I let it know what I want from it. I might tell the meat 'you better be tender!', or the salad components 'you better go well together!'.
The one culinary trend you wish would end?
I hate it when ingredients are overly transformed and unrecognizable on the plate. I think amazing cooking highlights the quality of good ingredients, and is true to the origins of the components.
What do you think is the next big food trend?
The next big food trend could be revitalizing traditional methods. Everything old can be made new again.
What one dish epitomizes Vancouver's culinary culture?
For me it is the purity of a fresh oyster. It is all about the quality of the ingredient, and represents the bounty of the oceans on the west coast. Vancouverites love their seafood, and they choose eat as locally and sustainably as possible.
What is your favorite part of the Dine Out Vancouver Festival?
So far I have really enjoyed the act of creating a menu for the festival. It is an opportunity for creativity, and I have enjoyed coming up with a menu unique enough to make Edible Canada the top of your list of spots to make a reservation at.
What is your guilty food pleasure?
A fresh local strawberry, dipped in Greek yogurt and maple sugar. Uniquely Canadian, and refreshing yet decadent.