CHRIS BISARO, CHEF, BRIX & MORTAR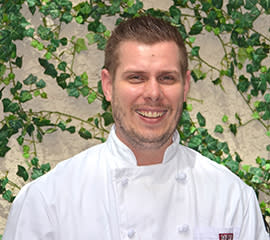 Brix & Mortar
1138 Homer Street
Vancouver, BC V6B 2X6
brixandmortar.ca
If you could tell the home cooks of the world one thing, what would it be?
Don't be afraid of salt and butter - they are your friends! That and make sure you have good knives - they make a world of difference. 
What inspires your cooking? 
Anything and Everything! You also have to not be afraid to fail. By that I mean that sometimes flavours and dishes work out beautifully and sometimes they just don't - you never know until you try, which is often half of the fun. 
If you could cook a meal for anyone, who would it be and what would you cook? 
I would do a giant "buffet-style" Roast Pig with creole fixins' for all of my favourite bands at the same time - before they went vegan! 
What is your favourite part of Dine out Vancouver Festival? 
It is a great opportunity for anyone to go out and try new restaurants and food that they might not normally be open to for a great price. $40 for a three course meal is unbeatable value.
What was the best thing you ate last year? 
Easy! "Ernie's Power House Sandwich" at Verti Marte on a trip to New Orleans. It was so good, my friend and I went back 3 days in a row for it! 
Is there a culinary trend you wish would end? 
Charred leak puree. That, and the "Gluten free" following that has taken Vancouver by storm. 
Do you foresee any dining trends in the future?
People are going to hate spicy food again. It sucks, but I think its gonna' happen. 
What is your favourite "guilty-pleasure" food?
I have no guilt when it comes to food! (I'm a chef)