KATHLEEN DUNCAN, EXECUTIVE CHEF, THE REEF RESTAURANT (2014)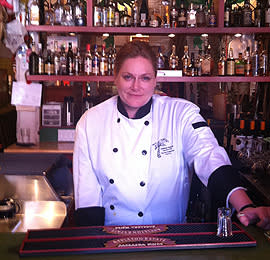 Chef Kathleen Duncan is a red seal Chef and has been cooking professionally for 23 years. Her career has seen her as everything from a busy truck stop breakfast cook in her early years, running pubs, to working in 5 star hotels in the UK. She has been with The Reef for over 7 years, Executive Chef for 5 of those years and oversees 3 locations in 2 different cities.
THE REEF ON MAIN
4172 Main Street, Vancouver
604.874.5375
 
THE REEF ON THE DRIVE
1018 Commercial Drive, Vancouver
604.568.5375

www.thereefrestaurant.com
Three words to describe your cuisine:
Spicy, Fruity, Intense
Your signature dish:
My signature dish is my hot sauce, Miss Kitty's…its awesome on all of our food. Its packs a punch but is fruity with a savory finish
Where do you find inspiration for new dishes?
I immerse myself in the Caribbean culture, try to go to the Caribbean for a holiday once a year, I eat out a lot, always trying to find new ideas from local product and throwing a Caribbean spin on to it
What is one thing in your kitchen you could not live without?
Salt
What is your all-time favourite dish?
Steak done any way as long as it's done right
What makes your restaurant unique from others?
There aren't a lot of Caribbean style restaurants in Vancouver. We offer the whole package, a little bit of love from the entire region. We like to stay trendy and keep the North American palate in mind without compromising traditional Caribbean fare too much.
Best place in Vancouver for Pizza?
Nicli Antica in Gastown
The dish customers must try during Dine Out:
Jerk Chicken
The best part of Vancouver's Dine Out Festival:
It allows people who don't often get to treat themselves to a night out the opportunity to do so by offering a great deal on food, which also sees people trying cuisines that they might not normally due to such excellent offers
What do you enjoy most about your craft?
The creativity and the adrenaline of service