FAIZAL KASSAM, EXECUTIVE CHEF, CIBO TRATTORIA – MODA HOTEL (2014)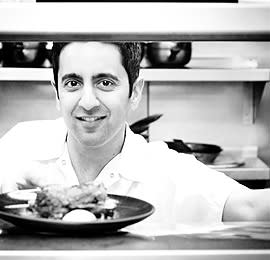 Born and raised in North Vancouver, Faizal's early skills revolved around competitive sports where he excelled at badminton and golf.  However, the wonderful tastes and aromas that came from the kitchen of his mother and grandmother inspired him to pursue a career in cooking (but he still plays a wicked game of badminton and is basically a scratch golfer).
Well known in esteemed kitchens around the city, Faizal's eleven years of experience include stints at Bin 941, La Brasserie, Val d'Isere Brasserie in Whistler, Bacchus at the Wedgewood Hotel, and Hawksworth Restaurant at Hotel Georgia.  Prior to Hawksworth, Faizal was sous chef at Cibo Trattoria.  Faizal returns to us as Chef de Cuisine and continues our tradition of rustic Italian cuisine using only in season, locally sourced products.  He is committed to leading a strong kitchen team and executing consistently delicious food.  Faizal's competitive nature and relentless pursuit of perfection is reflected by his growing number of fans who consistently return to Cibo over and over again for an extraordinary dining experience.
"Rustic flavours and new age techniques, showcasing local and organic ingredients, is my main drive behind the menus of Cibo and Uva.  Using only the finest products is what this farmer driven dining experience has come to be," says Chef Faizal.
CIBO TRATTORIA – MODA HOTEL
900 Seymour Street, Vancouver
604-602-9570
www.cibotrattoria.ca
Three words to describe your cuisine:
Sustainable, Local, Organic
What makes your restaurant unique from others?
Our menu changes daily. We focus on what we can get locally, farmer direct, and in season.
What do you enjoy most about your craft?
Cooking for people who love to eat
In what ways can a chef be creative in the kitchen?
I've always enjoyed revamping a classic dish. Sometimes one ingredient swap can make a world of difference.
If you could pick anyone, who would you'd like to sit down and have a meal with?
Eric Ripert – A fantastic Michelin star Chef
Where do you find inspiration for new dishes? 
I have a large collection of cookbooks and the changing of the seasons
Favourite Food Truck:
Le Brasserie!
Best place for Japanese food:
Zen Sushi in West Vancouver
Do you have any food superstitions?
No cheese with seafood!
What tool in the kitchen is one you should splurge on?
Every home chef should have a restaurant grade knife