EXECUTIVE CHEF FELIX ZHOU, BEACH BAY CAFÉ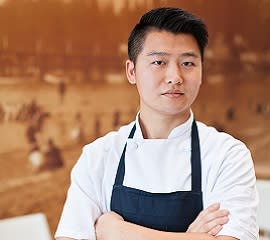 Born in Hunan, China and raised in Vancouver, Felix Zhou started his culinary journey at West Restaurant under the tutelage of critically acclaimed chefs David Hawksworth and Warren Geraghty. He further honed his skills in his next role at the Shangri-La Hotel's MARKET by Jean-George, and in 2012 jetted off to London to pursue his next culinary adventure. Here, Felix joined the team at Michelin-starred Galvin La Chapelle - a bastion of modern French cuisine - and then sharpened his foraging skills at Roganic, a pop-up restaurant in Marylebone dreamed up by Michelin-starred Chef Simon Rogan.
Felix returned to Canada in early 2014 to assume the role of executive sous chef at Whistler's Nita Lake Lodge where he helped to oversee the resort's five food outlets. Later that year, Felix moved back to Vancouver to accept the executive chef position at The Parker - one of the city's most well-received vegetarian eateries - and stayed with the restaurant during its rebranding as Big Trouble.

Now, as executive chef at Beach Bay Café, Felix brings to the table rich experience drawn from his travels and chefs he has worked alongside throughout his storied career. His ever-evolving menu prioritizes locally sourced ingredients, freshly caught seafood and approachable dishes inspired by the laidback lifestyle of the West Coast. Felix's personal spin on refined yet casual dining is a breath of fresh air, expertly capturing the restaurant's beachfront location and contemporary feel.
What three words best describe your cuisine?
Pure. Simple. Fresh.
What is your guilty food pleasure?
Spicy chicken wings.
If you could cook a meal for anyone who would it be and what would you cook?
I would love to cook for a world leader. I would prepare spicy chicken wings because I enjoy eating them too.
What should we know about you that can't be found on your resume?
I love to fish for salmon and watch movies on my day off.
What ingredient could you not live without?
Salt!
The one culinary trend you wish would end?
There are too many "small plates" restaurants.
What do you think is the next big food trend?
I think vegetarian restaurants will be popular in the coming years.