EXECUTIVE CHEF GIULIA LOMBARDO, LOMBARDO'S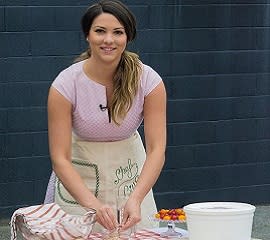 Many awards and accolades have been attributed to the Napolateana style of wood-oven pizza prepared fresh at Commercial Drive's Lombardo's restaurant. Long-standing aficionados come to enjoy the thin crisp pizza cooked to perfection at the Italian eatery founded in 1986. Executive Chef Giulia Lombardo shares her inspirations, quirks, and what culinary trend she could do without.
What are your kitchen quirks?
The bartenders always make fun of me when I'm working in the kitchen because I ask for ice water with a shot of hot water in it. I like my water at a certain temperature!
Which culinary trends do you want to see go away in 2016? 
Lombardo's has been open since 1986, going on thirty years so we have seen lots of trends come and go. Kale, quinoa, juicing and coconut water have all made an appearance in Vancouver's recent food scene. I am guilty in participating in those; however the "gluten free" trend, I could do without. Especially in a pizzeria!
What trend do you predict will come next?
Vancouver is such a health conscious city I think the next food trend will be another health driven dish. Cauliflower, purple and orange varieties have been popping up more often at farmers markets. I would love to see more recipes featuring this gorgeous vegetable.
What one dish epitomizes Vancouver's culinary culture?
Avocado on toast. This is such a hot item at the moment! The simplicity of this dish makes it so comforting and tasty. It doesn't get much better than a fresh slice of homemade bread with perfectly ripe and creamy avocado, a little sea salt and I'm sold!
What inspires your cooking?
Travel is hugely inspirational to me. I am fascinated by new ingredients, recipes and cultures. Whenever I am visiting a new city I'm drawn to what people are eating in their homes. I find that these recipes and traditions are the most accurate reflections of a culture.
Best culinary compliment you have ever received?
Italians are all about food and family so whenever I hear "E buona" which means "It's Good" from my Nonna I know it really IS good.