ANATOMY OF A DINE OUT™ EVENT – THE GRAPE DEBATE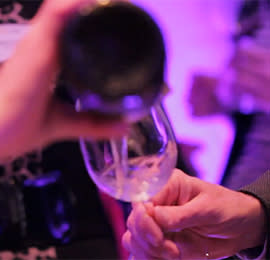 Tourism Vancouver's Dine Out TM Vancouver Festival has a number of partners and sponsors that help finance the event as well as contribute to the look and feel by participating in a variety of events that are held throughout the festival. The Wines of British Columbia is one such partner, and is involved in a number of different events including Plated & Paired at the Public Market and the Grape Debate. How do events like these get off the ground? We asked Lucas Pavan, Festival Coordinator for his insight into how this event came to be.
Where did the original idea for the Grape Debate come from?
I was having coffee with Fred Lee one day while filming our festival trailer, and he expressed interest in doing a wine and cheese event with UBC Alumni and Dine Out. I hinted that a simple wine and cheese event wasn't interesting enough, so he asked me what exactly I wanted. I replied with a simple request: "I want a debate." His reply: "How about a Grape Debate?" "Perfect," I said. After this exchange, I connected Fred with the British Columbia Wine Institute who worked very closely with UBC Alumni to secure the participating wineries, panelists and motion to be debated.
How does an event like this fit into a food festival like Dine Out™ Vancouver?
It fits perfectly! The Dine Out TM Vancouver Festival brings together the best that Vancouver and British Columbia have to offer in its culinary scene. Wine, for many, is an integral part of dining and BC VQA wines are an excellent fit to any meal. Adding a 'cerebral' component like this debate is, provides for an additional flair of interest and attracts an entirely new demographic of participant to the festival.
How do you decide on the motion to be debated?
That's a very good question! It's actually not as easy as one might think. We need to find topics that are current and interesting and that strike a chord with enough people that we can secure panelists on both sides (yes or no) of the motion. Also, we want to find a topic of discussion that can generate a comedic component so the event doesn't turn into some political lecture, but rather an exciting banter between opposing sides.
How do you select panelists that participate?
Given that this event produced by UBC Alumni, one of the underlying criteria is that each panelist be a graduate from the University of British Columbia. This can sometimes be a challenge given time schedules and the like, so it doesn't always include Alumni, but they are given priority. After identifying who might be a fit for the topic of debate, a call is placed to each individual to gauge their interest and for them to pick which side of the debate they'd like to be on. Hopefully they pick the winning side!
What other events might you have planned for Dine Out™ Vancouver Festival in future?
There's a file of different themes stashed away for future reference. It's a matter of finding the right producers and partners who embrace each idea as their own and run with them to create successful public events. We also accept ideas and expressions of interest from other individuals who might want to produce an event to coincide with the festival. If the fit is right, we will work to make it happen.
To view a recap of The Grape Debate, check out this video.