PAUL HALDANE, EXECUTIVE CHEF, BITTER TASTING ROOM (2014)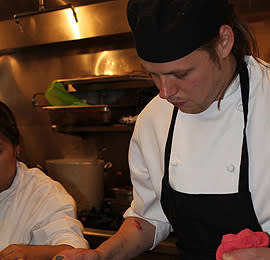 Executive chef Heather Hospitality Group, Paul Haldane, is responsible for all the food programs at The Irish Heather, Salt, Judas Goat, Bitter, Salty Tongue, Everything Cafe, Fetch Kiosk, and Penn Bakeshop. Humble about his talent but passionate about food, his vision for the company is simple: "I want to make good food and try to improve every food and service aspect to the highest level we can."
Born in Hastings, England, Paul Haldane has always enjoyed cooking, dreaming of a career as a chef. In 2002, after completing a two year apprenticeship at Powdermills Hotel in Battle, East Sussex, for level two national vocational qualifications in catering and hospitality, Haldane completed several stages. The first was at Midsummer House, Cambridge—a restaurant with one Michelin star, 4 AA rosette—as Pastry Commis, then in the Larder and Pastry sections—serving banquets to more than five hundred covers a seating—at the S.A.S Raddison Portman Hotel in London.
Haldane worked his way up through the ranks at Redstack Restaurant & Flackly Ash Hotel, both in East Sussex before travelling to Australia, where he worked as Chef de Partie at Ruby's Restaurant, in 2005. Returning to England, the Powdermills Hotel were thrilled to have him back, and he spent two years as Chef De Partie and Junior Sous chef. Haldane honed his skills further as Head Chef running the kitchen at The Jolly Sportsman from 2007 to 2009, creating fresh-made gastropub fare.
In 2009 Paul moved to the Lower Mainland to work in Steveston at Felicos Restaurant, then taking the helm of the Blue Canoe Restaurant just three months after he started. During his two-year tenure, the Blue Canoe garnered multiple accolades including Best Richmond Restaurant in the Georgia Straight's Golden Plates, as well as 3rd place for Best Chef in the 2011 Best of Richmond Awards.
BITTER TASTING ROOM
16 W Hastings, Vancouver
604-558-4658
www.bittertastingroom.com
Three words that describe your cuisine:
Rustic, Simple, Hearty
Do you prepare anything that is unconventional?
Pigs head, have used calves brains, lamb liver, lung and heart (to make haggis) back in England
Were you interested in food at an early age?
Yes, I remember cooking roast dinners with my mum when I was knee high to a grasshopper
Who do you admire in the culinary industry?
Heston Blumenthal, Daniel Clifford, Michael Caines
What are your cooking tips for busy people?
Use a slow cooker. Put some meat, stock and veggies in. In the morning, when you get home you have dinner ready. Be organized, plan meals and get bits done when you can
Do you see any dining trends in the next 2 – 3 years?
Beer food, puffed grains, nose to tail eating
A talent you possess that many are unaware of: 
I play a wee bit of harmonica
The dish customers must try during Dine Out:
Smoked pork loin with parsley and bean stew. We butcher and brine the pork, then smoke for 4 hours then cook nice and slow, then sliced to order from the whole loin
The best part of Vancouver's Dine Out Festival:
The foot traffic means more people get to come in and see the room, try the food and beer pairings, hopefully have a great time and come back and see us once dine out is over. It's a great way to promote our restaurant(s)
Describe an ideal day at home: 
Cup of tea, full English breakfast, relax with the wife, then invite family round for nice roast dinner and maybe a glass of wine, or 6…