WAYNE HARRIS, CHEF, MARKET BY JEAN-GEORGES (2014)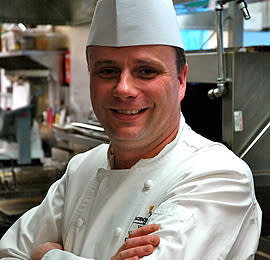 Having been in the culinary world for over 22 years, Chef Wayne Harris has been able to build an award-winning culinary career in establishments that include AAA, 5-Diamond Properties and Relais des Gourmands Restaurants.
He has trained under such world renowned chef's as Three-Michelin Star Celebrity Chef, Jean-Georges Vongerichten, and local Canadian favorite Celebrity Chef, Rob Feenie. As the Sous-Chef of Lumiere Restaurant he had a large part of gaining the prestigious Relais des Gourmands designation. He has also been instrumental in achieving the exclusive AAA, Five-Diamond Rating while Executive Chef at the Shangri-La Hotel.
Chef Wayne Harris has had appearances on Iron Chef America, Battle Crab against Masaharu Morimoto and regular appearances on Food Network Canada. Growing up in Kelowna BC his culinary stylings are largely West Coast, and from his formal training and mentors, his creations have French and Asian influences. His preference is to work with many of the amazing local suppliers that the Lower Mainland has to offer.
MARKET BY JEAN-GEORGES
1115 Alberni Street, Vancouver
604.695.1115 
www.shangri-la.com/en/property/vancouver/shangrila/dining
Three words to describe your cuisine:
Asian West Coast French
Your signature dish:
Soya Glazed Beef Short ribs/Black Truffle Pizza
Where do you find inspiration for new dishes?
Seasonal Ingredients, fresh flavours and respect for the ingredients
Who has been a major influence on your style of cooking? 
Thomas Keller
What makes your restaurant unique from others?
The style of flavours, many unique combinations and textures in each dish
Why did you choose to become a Chef?
My mom wanted me to learn how so I didn't live at home forever!!!
What was the best thing you ate last year?
Pad Thai, Shangri-la Bangkok!
The dish customers must try during Dine Out:
Berkshire Pork Chop, Steamed Mushrooms and XO Chili Sauce
Do you see any dining trends in the future?
Comfortable Foods and Value for Money!
Best take-out food in Vancouver?
Vij's!