KAZUYA MATSUOKA, EXECUTIVE CHEF, MIKU RESTAURANT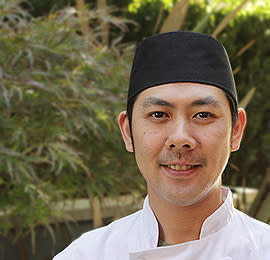 Kazuya, or Matsu-san as he's known in the restaurant, started his career in Japan learning the intricacies of French and Italian cuisine. After understanding the concepts of some of the more prevalent cuisines of the world, he made the move to Los Angeles and worked for Chaya Brasserie, a pioneer of Californian cuisine that has been based on French and Japanese fusion. His experience in one of the first fine dining sushi restaurants led him to Miku where his passion for cooking finally found a fit. He moved to Vancouver in 2011 to re-energize the team and to help us open Minami. Matsu-san is always challenging himself to create new dishes that strike a balance between Japanese traditional and our Aburi concept. He loves working with the team at both locations and says that after 17 years of being in the restaurant industry, he finally has a place to belong.
MIKU RESTAURANT
2 - 1055 West Hastings Street, Vancouver
604-568-3900
www.mikurestaurant.com
Three words to describe your cuisine: 
Seasonal, Fresh & Innovative
Your signature dish:
Saikyo Miso Baked Sablefish
Where do you find inspiration for new dishes?
Local Markets
What is one thing in your kitchen you could not live without?
My exceptional staff
What is your all-time favourite dish?
Authentic, perfectly cooked steamed rice
What makes your restaurant unique from others?
Our modern infused Euro-Asian cuisine & our signature Aburi style (flame seared) Sushi
Best place in Vancouver for Pizza?
Nicli Antica Pizzeria
The dish customers must try during Dine Out:
We only have one option (plus vegetarian) but both Miku & Minami's Dine Out menus are designed so the guest has a tasting experience and will have the opportunity to try several of our unique flavours.
The best part of Vancouver's Dine Out Festival:
It gives us the chance to showcase our venues and allows guests who have yet to experience our unique cuisine an opportunity to try something they will not soon forget.
What do you enjoy most about your craft?
I love creating new and innovative flavours. I love to experiment with food and take great satisfaction in people's enjoyment when they have a chance to dine with us.