EXECUTIVE CHEF KEVIN SHAWCROSS, WATER STREET CAFÉ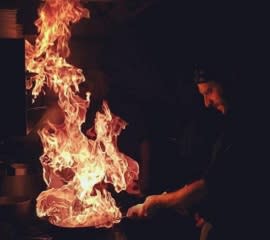 Water Street Café encompasses what every small restaurant ought to be with their commitment to quality, service and value that keeps customers coming back time and time again. Follow Kevin Shawcross at @kevinshawcrosschef on Instagram for gorgeous photos of his creations.
What one dish epitomizes Vancouver's culinary culture?
It is really hard to put your finger on one thing that epitomizes the culinary culture here. The bounty of this province is so amazing, weather it is from land or sea, BC never ceases to impress with its cuisine.
What is your favorite part of the Dine Out Vancouver Festival?
Getting to cook for a crowd that wouldn't normally experience dining in your restaurant is always the biggest treat!
Best culinary compliment you have ever received?
I think most chefs like to watch their food arrive at the table, there is nothing quite like the feeling you get when you see the diners anticipation change to a bright smile and you know you have helped set the tone for their evening.
Kitchen quirks - do you have any?
I definitely like to sing to my staff, I will usually single out the one person who needs a boost and serenade them with the most annoying tune I can muster up!
The one culinary trend you wish would end?
I think ultimately following food trends can be hazardous or helpful, if all you are doing as a chef is mimicking a trend you are not being true to your own culinary self and that needs to stop. Although putting your own spin on what's current can open new doors as well.
What do you think is the next big food trend?
I truly believe in 2016 we will definitely see people start shying away from such meat heavy diets and we will see chefs incorporating more interesting vegetables into their menus. I think and hope this will be a year of people choosing responsible seafood.