BOBAN KOVACEVICH, CORPORATE CHEF, CARVER'S STEAKHOUSE / EXECUTIVE HOTELS & RESORTS (2014)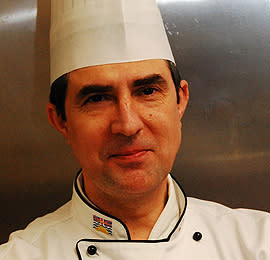 Boban Kovacevich was born in Belgrade - the capital city of Serbia (the former Yugoslavia) in 1962. He graduated from culinary school (Hotel Industry & Tourist Center) in 1983. His first experience began at Hotel Adria. Surrounded by the Adriatic Sea, it is an area of Europe known for its tourism. Realizing that the best way to expand knowledge and gain real life experiences, he decided to travel to foreign countries to achieve his goals of professionalism.
His travels took him to Rotterdam, Netherlands where he was living and working from 1991 to 1993. At the end of 1993, his work took him to Tel-Aviv, Israel. Working in the area until March 1998, he was nominated one of the 10 best chefs in the Middle East area by the Jerusalem Post.
In 1998 he decided to move to Canada. This proved to be a great career move. He started at the Executive Inn (Burnaby location) as Sous-Chef and it did not take him long to showcase his valuable experience and talent. His talent earned him an Executive Chef position for the same hotel at the Vancouver location until 2003. In 2003, he became a member of the Canadian Culinary Association. The same year he was offered a position with a (D.N.C.) which ran one of the largest resorts in Western Canada - Harrison Hot Springs. He worked as Executive Sous-Chef until the beginning of 2005, at which time he assumed the position of Executive Chef.
In 2005, he also became a member of the B.C. Chef Association & 2006 Manager of the Year in Harrison Hot Springs. In 2007, he accepted the offer for Corporate Chef for Executive Hotels.
Board Member/Director of The British Columbia Chefs' Association 2008 - 2010 
Recognition Award from the BC Chef's Association – 2009
BC Healthy Chef Competition, Grand prize winner for "Best Appetizer" – 2010
BC Chef of the year – 2010 First Vice President
BC Chefs Association - 2012-2014
CARVER'S STEAKHOUSE
7211 Westminster Highway, Richmond
604-207-7107
www.carversdining.com
Three words to describe your cuisine:
Fresh, Flavorful and Worldly
Your signature dish:
For the last five years I have been designing menus for all the restaurants and banquets in the Executive Hotels & Resorts chain, so it is not easy to choose just one. Let's say the most popular ones of all the properties are the Salt & Pepper Prawns with Chilliwack Honey Mango Salsa and the Butter Chicken.
How were you inspired to become a Chef?
In Europe you choose your area of studies right after grade eight. Since I was deeply inspired by TV cooking shows, I decided to study culinary throughout college. My degree with my love and passion for the profession combined, I was able to successfully continue doing what I love to do every day.
What is one ingredient you love to cook with?
Cooking with fresh and local produce is what I cherish.
What is an ideal day for you at home?
A day spent on the lake boating with my family
What is one tool in the kitchen every Chef should splurge on?
Japanese mandolin
The best part of Vancouver's Dine Out Festival:
Meeting a whole bunch of new people that also feel passionate about food. It is just a lot of fun!
If you could hop on a plane and go anywhere in the world for a meal where would you go and what would you eat?
Somewhere I have never been before. I have travelled all around Europe and the Middle East, so new places like India, Japan or China would be enchanting. Also, experiencing many different authentic dishes in small local restaurants is always a pleasure.
What did you love eating growing up as a child?
Meat! I was always a meat guy.
What advice do you give to aspiring Chefs?
Cook with love and passion. Do not be scared of salt, pepper, and hard work