INTO THE WOODS WITH THE LISTEL HOTEL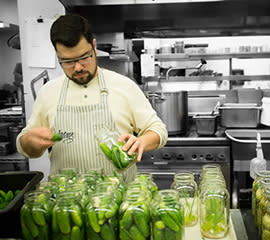 Always wanted to make your own mustard and jams? Impress your friends by identifying edible foods while walking in the woods?
The Listel Hotel's Forage and Feast Package is your chance to do all those things and experience the best of Dine Out Vancouver 2015.
Offered one weekend only - Friday, January 30 to Sunday, February 1 - this package includes hot-commodity Dine Out Vancouver Festival event tickets to The Grape Debate and the West End Brunch Crawl. But that's not all. You also get a private preserving workshop in Chef Chris Whittaker's Forage kitchen as well as a rainforest edible food identification tour led by Robin Kort of Swallow Tail Tours. And all of this is topped off with a 10-course West Coast tasting menu and the ultimate foraging basket provided by The Listel Hotel in the heart of the West End.
Your fun, foodie weekend will play out as follows:
Friday, January 30th
Check into your Artist Series Suite at the Listel Hotel featuring free Wifi, parking, daily breakfast and a culinary welcome amenity.
Evening - Two tickets to Dine Out Vancouver Festival's The Grape Debate.
Saturday, January 31st
Morning - Two tickets to Dine Out Vancouver Festival's West End Brunch Crawl.
Afternoon - A private preserving workshop in the Forage kitchen. Learn to make and preserve IPA mustard, jam and more.
Evening - A 10-course West Coast winter tasting menu at Forage.
Sunday, February 1st
Two-hour rain forest walk and edible food identification tour with Chef Chris Whittaker and Robin Kort of Swallow Tail Tours (including transportation).
The package costs $1798 for two people. For full details, click here.