MIKE MIKODA, EXECUTIVE CHEF, PIER 7 RESTAURANT + BAR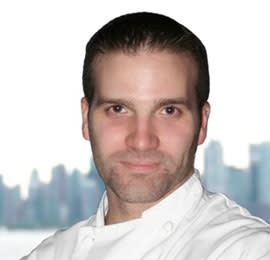 Chef Michael Mikoda joined Pier 7 Restaurant + Bar in the Fall of 2013.
After completing culinary school at VCC in 2002 he began serving his apprenticeship under Nico Scheurmans of Chambar in 2004 and completed his apprenticeship under Melissa Craig of the Bearfoot Bistro in Whistler, where he held several positions before becoming her Sous Chef. Upon leaving the Bearfoot Bistro, Chef Mikoda worked at seasonal fishing resorts, most notably for Sonora Resort a Relais Chateau property near Campbell River. Subsequently he became the Executive Sous Chef at Figmint in Vancouver.
In Spring of 2011 he was invited to join the Glowbal Group where he spent two years in management including Executive Sous of Chef Coast and Chef de Cuisine of Black & Blue.
Chef Mikoda describes his cooking style as approachably modern west coast with classically influenced technique, and attributes his defined style of cooking through the knowledge and experience that he gained during his apprenticeships with Chefs Scheurmans and Craig. During leisure time, he enjoys snowboarding and motorcycle rides all summer.
PIER 7 RESTAURANT + BAR
25 Wallace Mews,  North Vancouver 
604.929.7437
www.pierseven.ca
Three words that describe your cuisine:
Approachable. Modern. Westcoast.
Your signature dish:
Tri Color Beet salad, Marinated Feta, Roasted Pears and Balsamic Vinegar
Who inspired you to become a chef?
Augustine Escoffier
What did you love to eat growing up as a child?
Dads' home-made shake and bake chicken
What is your beverage of choice?
Ice Cold Beers
Favourite meat:
Bacon...obviously
Favourite Celebrity Chef:
Martin Yan..."If Yan can cook so can you!!"
The dish customers must try during the Dine Out Vancouver Festival:
Red wine braised pork cheek
The best part of the Dine Out Vancouver Festival:
The Exposure of the restaurant
What is your food philosophy?
Eat, Drink and Indulge