QUANG DANG, EXECUTIVE CHEF, WEST RESTAURANT + BAR (2014)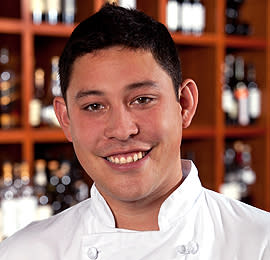 Chef Quang Dang began his culinary career at West, where he worked as junior sous chef. For the next five years, while working his way ever-upward in some of Vancouver's finest kitchens, Quang quickly established himself as an advocate of sustainability and a champion of West Coast cuisine, a role that he continues to undertake in defining his approach to modern cookery. Raised in Calgary, Alberta with family roots that stretch back to Scotland and the orchards and rice fields of Vietnam, chef Dang originally moved to Vancouver in 1998 to finish his engineering degree and fulfill a dream to train for the Olympics with Canada's national field hockey team. The hospitality industry soon won him over, and he went on to compete in a number of international food competitions such as the Bocuse D'Or in Lyon France, the National Chaîne des Rôtisseurs in Winnipeg, the 2011 European Seafood Exposition in Brussels, and most recently won silver at BC's Gold Medal Plates 2012.
WEST RESTAURANT + BAR
2881 Granville Street, Vancouver
604-738-8938
www.westrestaurant.com
Three words to describe your cuisine:
Playful, textural, delicious
Your signature dish:
I'm not old enough to have a signature dish!
How do you keep things creative in the kitchen?
The seasons are always changing, trends are always evolving - that really fuels the creativity for me.
What is your biggest guilty pleasure food?
Chips and sour cream!
What is the best compliment someone could give you as Chef:
An excellent meal - whether it's a favourite dish or something new, I love introducing new flavours to people.
What is your all-time favourite dish:
Everything that tastes good!
The dish customers must try during Dine Out:
Mushroom Gnocchi
The best part of Vancouver's Dine Out Festival:
Being able to share our dishes with all of our new guests
What is your favourite meat to cook with?
Pork
Last $20, what would you order?
A BLT…..and a piece of cheese!