HEAD CHEF SARAH STEWART, JUNIPER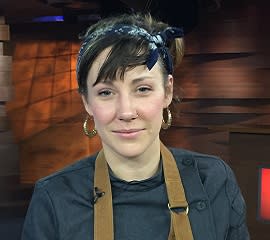 From its rocky shores to its fragrant rainforests to its arid deserts, Juniper has sought out the best in homegrown, Cascadian produce, products and talent. The kitchen is lead by head chef Sarah Stewart. Passionate about building community through cooking, Sarah's commitment to seasonal, local ingredients, traditional (and sometimes forgotten) techniques and the conservation of our shared Canadian culinary heritage play a vital role in the food programme she's crafted for Juniper.
What ingredient could you not live without?
Fresh herbs. When I first started cooking I remember being awestruck by fresh basil! It's so different from the dried junk in everyone's pantry that's 10 years old. Fresh herbs are still magical to me every time I chop them and add them to a dish.
If you could cook a meal for anyone who would it be and what would you cook?
I would love to cook for author Susan Musgrave. I've been reading her dark, deep and fluid words since I was a teenager in Ontario. She took over The Copper Beech House B&B on Haida Gwaii and I just read her book A Taste of Haida Gwaii: Food Gathering and Feasting at the Edge of the World. I'd love to go mushroom picking with her. We'd make a simple meal of toasted homemade sour dough bread with butter and sautéed shallots and winter mushrooms. We'd sip tea and I'd ask her all about her life.
What should we know about you that can't be found on your resume?
I like to paint odd portraits. I paint really big, bright-coloured portraits with collage components of old books I've collected. Give me some old bits of paper and someone I love's quirky face and I am happy as all heck. I hope to do a series of chef paintings soon when things get a bit more streamlined at the restaurant.
Best culinary compliment you have ever received?
Someone recently told me that the spice mix I used in my Tourtière brought them back to childhood and it was a very emotional experience for them. Smell and taste and memory are all tied together and it makes my heart happy that something I made can take them on a journey into the past.
Kitchen quirks - do you have any?
I do a lot of animal impersonations at work. Squirrel and turkey are probably best known, and have many applications for everyday use. I also put things away while people are still using them. I never mean to; I'm trying to tidy up.
What is your guilty food pleasure?
Staff meal spaghetti! We make meatballs with leftover terrine pork in a classic red sauce with tons of cheese scraps. It hits the spot and slows you way, way down. Sometimes time stops completely.