STREET FOOD CITY RETURNS TO DINE OUT VANCOUVER FESTIVAL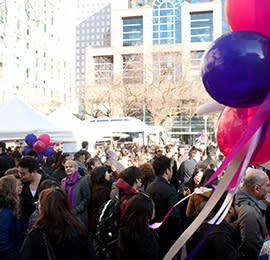 Week-long street food pod dishes out daily specials, January 19 – 25, 2015
Street Food City, Vancouver's original street food pod, returns for a week-long pop-up during Dine Out Vancouver Festival.
Now in its fourth year, Street Food City will take place January 19 – 25, 2015 on the north plaza grounds of the Vancouver Art Gallery. Showcasing more than 25 food trucks, Street Food City will be open to the public Monday to Thursday from 11 am to 3 pm and Friday to Sunday from 11 am to 5 pm.
Tents, tables and seating make it easy to enjoy lunch on-site; special Dine Out Vancouver Festival creations and pricing will be available; and, providing the soundtrack, 96.9 JACK FM and LG 104.3 FM will broadcast live on-site daily.
Street Food City will feature the following trucks and carts:
Aussie Pie
JJ's
Roaming Dragon
Blue Smoke
Jonny's Crème Brulee
Serious Sausage
Chili Tank
Juice Truck
Soho Road
Community Pizza
Kaboom
Super Thai
Culver
le tigre Taser
Dougie Dog
Mangal Kiss
Varinicey
Fat Duck
Mogu
Vijs
Feastro Bistro
Mom's Yolks
Guanaco
Reef Runner
ZeBite
Holy Perogy
Reel Mac and Cheese

Twitter @streetfood_yvr
#streetfoodcity
#DOVF