EXECUTIVE CHEF WAYNE SYCH, JOE FORTES SEAFOOD AND CHOPHOUSE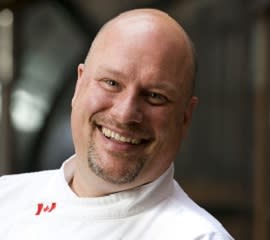 Wayne Sych has two rules when it comes to cooking: keep it simple and use quality ingredients. With the experience he gained from working at some of Vancouver's iconic restaurants such as The Cannery and the Fish House in Stanley Park, Wayne has continued the tradition of serving up a variety of regional seafood - blending his vibrant West Coast style with the freshest local ingredients. At the young age of 15, Wayne started working in restaurants and is now in charge of a 70 person crew at Joe Fortes. Even with all the chaos that comes with working at some of Vancouver's busiest restaurants, Wayne couldn't imagine being anywhere else.
If you could tell the home cooks of the world one thing, what would it be?
Cook from recipes to come up with new ideas, buy cookbooks and play with ingredients. People will tell me they are tired of cooking the same thing at home but they don't own any cookbooks. You don't need a huge selection of cookbooks but just a few or search the internet to come up with ideas and inspiration.
What should we know about you that can't be found on your resume?
As well as cooking I enjoy perfecting classic cocktails.
What is your favorite part of the Dine out Vancouver Festival?
I think it is great way for people to go out and experience different restaurants and cuisines at affordable prices.
What inspires your cooking?
I get inspired by fresh and local ingredients. It is fun creating menu items and the development process they go through to become a completed dish.
What do you enjoy most about your craft?
I love the buzz of a busy kitchen and the restaurant during service.
If you could cook a meal for anyone who would it be and what would you cook?
Anthony Bourdain, my grandmas' recipe for perogies.