TOTALLY LOCAL, TOTALLY DELICIOUS NEW WEST COAST FOODIE WEBSITE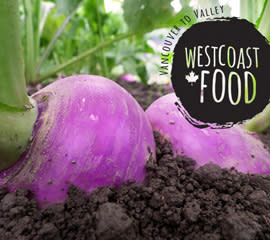 Lush forests, lively oceanfront, rushing rivers, sprawling fields, and a bright mix of cultures set the table for limitless culinary possibility from bustling Vancouver to the lively Metro suburbs to the calm Fraser Valley. There's enough to keep a foodie chomping their way around our west coast for years, and there's a new guide to what's delicious and where you can eat it.
West Coast Foods is dedicated to looking beyond the city's centre to uncover the restaurants, farms, ingredients, and people who make up Canada's west coast culinary styles. For example, have you heard of the coffee hut in White Rock with small batches of beans that are roasted on a converted barbecue? Do you know where to grab a hearty pre-hike breakfast on the North Shore? Would you like to try your hand at an apple pie recipe straight from multi-generational apple farmers in Abbotsford? Have you been to Coquilam's Koreatown?
Arm yourself with the website, and start exploring from Vancouver to the valley. (New posts are up each week!)
If your mouth is watering from south of the border and you are looking for a culinary getaway, enter our West Coast Food Sweepstakes for your chance to win a trip up on Amtrack, a two-night hotel stay, and a full day guided feast of a tour!